59s rebrand to Knizen
Washing your hands and sanitizing your handheld gadgets such as phones, tablets, car keys, toys, and other small items we use in our daily lives is very important, especially in this COVID-19 era. Many people relied on using disposable antibacterial wipes in the past, but nowadays, since there is a need to sanitize frequently, antibacterial wipes can become too costly. Not to mention that they are often not environmental-friendly.
Similarly, you cannot use water and soap to disinfect all your items. Scrubbing your smartphones with a wet sponge will wear its casing over time, and thus not recommended.
That's why people are investing in UV sanitation boxes. Although they were around before COVID-19 became a pandemic, UV sanitation boxes have recently become more popular since many people have realized that they offer an easier and quicker way of sanitizing small gadgets we use in our day-to-day lives. These boxes offer a simple, semi-portable way of cleaning and disinfecting gadgets such as toys, mobile phones, wallets, etc. They operate off plugged power, and in most cases, they are portable.
If you are in the market looking for a UV sanitation box, you may be overwhelmed because of the large number of these devices in the market. Since they have become more popular, many brands have released different UV sanitation boxes, and it might be hard to know a reliable one.
One UV sanitation box that has become popular during this pandemic is the 59S UV Sterilizer Box for Household Equipment. The 59 UVC Sterilizer Box is a horizontally-designed box that sanitizes your gadgets in just 180 seconds. Most boxes in the market have a vertical orientation and longer sanitization cycle of not less than 10 minutes, but this is quite different, making it one of the best UV disinfection box brands for those who need to sanitize their gadgets quickly before going out or getting into the house.
59S UV sterilizer box
for Smartphone, Nail Art Make up Tools
Clinically Proven Kills 99.9% of Germs Viruses & Bacteria in 180 Seconds 8 UV-C LED 59S S2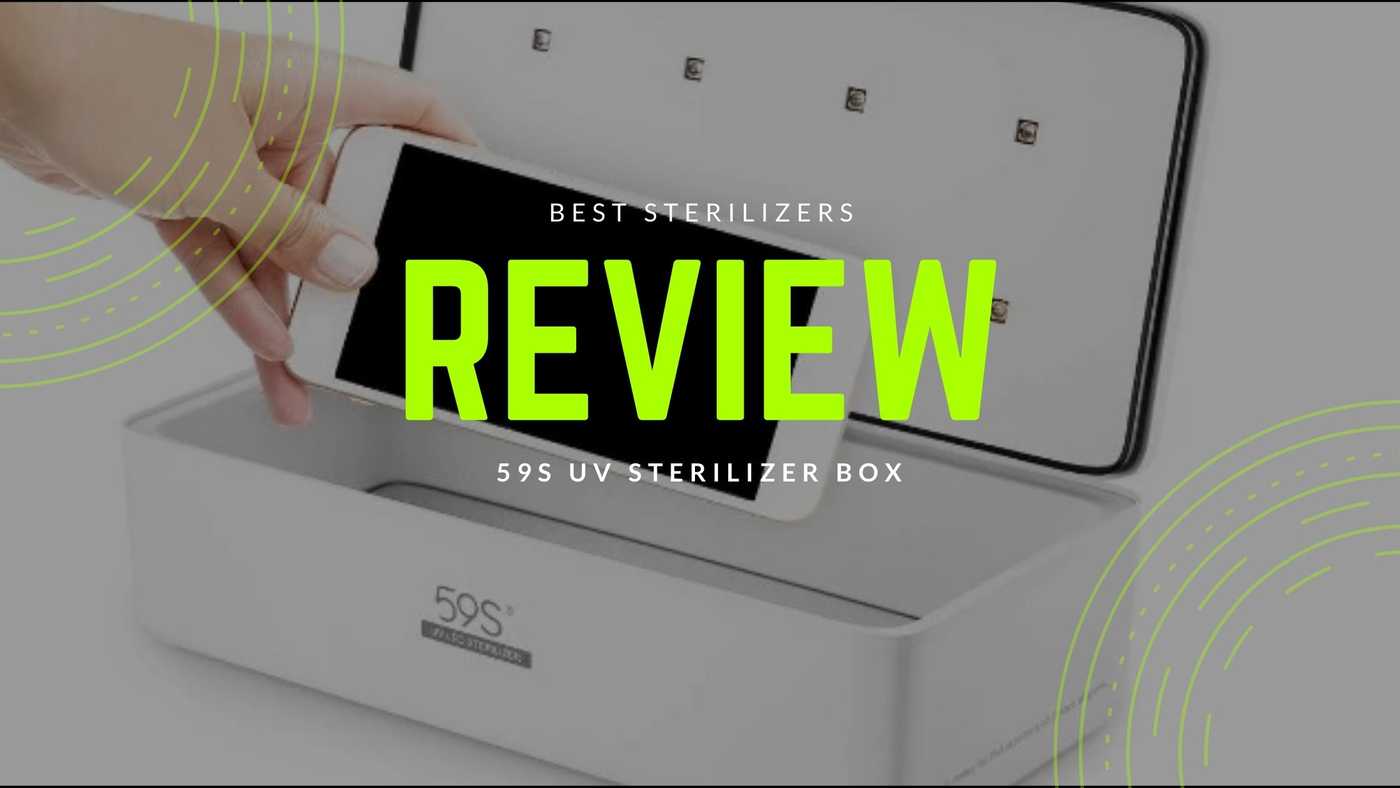 🕵🏽‍♀️More About 59s UV Ultraviolet LED Sterilizer Sanitization Box
This is a great pick for people who are looking for a sanitizer box that offers fast and efficient sanitization. The 59s UV LED Sterilizer has interior reflective glass at its bottom and features a silicon bracket to ensure that the ultraviolet light is spread in all corners evenly and efficiently. The reflective interior ensures that there are no dark corners in this sterilizer box, which kills 99.9% of the germs.
It features 8 UV-C LED bulbs that generate between 260-280nm UV light. And even with all these bulbs, the 59s UV Sterilizer weighs 14.8 ounces and is durable and compact.
With dimensions of 8.5 inches by 4.1 inches by 2.8 inches, this box sterilizer is ideal for many small items such as mobile devices, baby bottles, remotes, wallets, etc. Of course, its size means that larger tablets may not fit in this unit, but this may not be a deal-breaker if you are not sanitizing bigger stuff.
In terms of safety, the 59s takes things seriously. It automatically stops flashing out UV-C light if you open. Besides, it automatically powers off to prevent you from over sterilizing your items and wasting the sanitizer's battery. Still, the LED lights in this device can serve you for up to 10,000 hours before you replace it.
❤️How Does 59s UV Sanitizer Work?
Before we look at the features of the 59s box, let's discuss how this UV sanitizer works. Many people may not be familiar with how these devices work and how they kill germs. The heart of this sterilizer is the UV-C radiation with a wavelength of 260-280 nanometers.
UV-C stands for ultraviolet C, and it refers to the type of radiation that is good at killing harmful microorganisms. Without explaining this in technical terms, we can term UV-C as a type of radiation that destroys the nucleic acids of harmful cells and bacteria, making them unable to perform their main functions.
In the range of 260-280 nanometers, the waves emitted by the 59S S2 UV Sanitizer box are powerful enough to disintegrate the bonds holding together viruses and bacteria, which means that they cannot multiply.
In other words, the waves destroy the RNA and DNA molecules that act as the heart of living organisms. That's why this sterilizer box is effective at disintegrating COVID-19 cells or other harmful bacteria.
You may ask, UV-C is also found in the air, why does it not kill microorganism? Well, it is because the UV-C level in the air is not enough to cause any significant harm. It is only detectable at higher altitudes of the earth's atmosphere. The ozone layer blocks most of it from hitting our skin.
In the 59s UVC Box, the radiation emitted is so concentrated such that it will disintegrate the bonds holding together viruses and bacteria in minutes. Compared to wipes and traditional cleaning devices, UV-C boxes such as 59S UVC Box are much more convenient and effective.
And because UV-sanitation boxes do not heat up an item or make it wet, they do not harm your delicate items such as smartphones.
💛Features That Makes 59S UV Sterilizer Box for Household Equipment Stand Out
✒️Overall Design
59S is constructed from white, durable, sturdy material and looks more like a home appliance than an electronic device. The edges are slightly molded, and the internal surface is reflective.
Although relatively smaller as compared to other big and bulky units, this device is large enough to accommodate any smartphone as well as other small everyday items such as keys and wallets. Its small size makes it ideal for use at home or in your office.
Although it seems small, the interior measures 8 inches by 3.5 inches by 1.5 inches. At this size, 59S can accommodate a wide range of everyday items. Pretty much any pocket-sized item you would want to sanitize, the 59S Sterilizer Box can do a great job. You can even sanitize your N95 face mask so that it doesn't become a harbor for viruses and bacteria.
59S pops open from the front, in a similar way to a locker. On the inside, you will clearly see the UV-C bulbs on the top side. These bulbs are said to kill 99.9% of the germs. The mirrored interior allows the light to hit your item from all angles, which means that this device achieves a 360-degrees coverage.
💚Ease of Use
59s was designed with simplicity in mind. It features a single button placed on the top part that you can use to turn the device on and off. Although it lacks a manual mode, you can cut short the auto mode by pressing a button.
Once you place the item you would want to be sanitized inside this box and close the door, this unit will start to sanitize. It takes 180 seconds for it to finish sanitizing your items.
In terms of what you can clean with this device, your options are endless. If an item can fit inside, you can sanitize it. However, it is important to mention that there are a few limitations you need to know. To begin with, UV lights are majorly effective on non-porous, hard surfaces. This is because they allow light to access all areas with obstructions.
Items such as masks and other soft materials may not be fully sterilized because they obstruct light from penetrating to the inner layer. This means that it may take longer for them to be fully sterilized. Keep in mind that if the UV light cannot hit a surface, it cannot sterilize it.
Another thing you should know is that if the item is directly touching the inside of the sterilizer box, it will not be effectively cleaned. This is because the side of the case will be blocking the UV light from reaching it.
The good thing is that the interior surface of the 59S UV Sterilizer Box has a transparent quartz plate, and thus you will not have any issues.
🧽Cleaning efficiency
The UV light emitted by bulbs in this box kills 99.9% of bacteria, viruses, and fungi. What's more, it offers one of the quickest ways of sterilizing items. That's why many consumers prefer it, especially those in offices and homes.
With 59S S2, you don't have to worry about how you have placed your object as it will sanitize all the surfaces thanks to its reflective surface, which allows it to reach all the angles. In other words, there are no dead corners in the box.
When it comes to efficiency, the 59S S2 Sterilizer Box takes only 180 seconds to effectively sterilize an object. This makes it one of the quickest UV boxes in the market. However, it is important to note that clothing items such as masks take longer to be sterilized. Therefore, items such as N95 masks take longer to be fully disinfected.
Make sure to clean off any dirt or residue on your items before you place them in this UV box sterilizer since
✅Pros of Using 59S UV Sterilizer Box
This is an all-purpose sterilizer box. The powerful UV Sanitizer box can be used to disinfect household equipment, such as eyeglasses, smartphones, toothbrushes, keys, and many others. This makes it great for household items.
It promotes a healthier lifestyle. By sterilizing your tools and accessories, 59S UV Sterilizer Box can help prevent germs and bacteria from spreading from one person to another.
Advanced UV-C Led Light. Emitting powerful radiation of up to 280nm, this UV sterilization box with a reflective interior offers a thorough 360 degrees protection, making it a great device to invest in, especially during this era of coronavirus.
Has a simple, portable design. Unlike other big, bulkier sterilizer boxes, this one is small enough to be carried and placed anywhere. It can be used in the kitchen, bathroom, or office. What's more, it is very easy to use and sterilizes things at a faster rate.
Lower power consumption. 59S is made to be energy efficient compared to many other sterilizers and traditional sterilizers.
Guaranteed safety. The manufacturer of this sterilizer box has taken all the safety measures to ensure that you use this unit without any fear of being affected by radiation. The box is certified by several recognized bodies, including ROHS, FCC, and CE
Requires no cleaning or descaling. Unlike traditional sterilizers required to be cleaned and descaled due to the use of steam, this UV box doesn't call for cleaning because it uses radiation to kill viruses and bacteria
Your investment is safe. This sterilizer box is backed by a 90-day money-back guarantee. This means you have nothing to lose. If you find this box ineffective, you can request a refund.
❌Cons of Using 59S UV Sterilizer Box
It is only suitable for small accessories. The 59S S2 disinfection covers only smaller accessories such as mobile phones, keys, wallets, etc. It cannot fit big items
💭Final Thoughts
This portable UV Sterilizer box from 59S comes in a small, portable design, making it ideal for traveling with or for placing in a congested area. Sanitizing items in this box takes a very short time as compared to other boxes since it only takes around 180 seconds for your items to be fully disinfected.
For those concerned about the UV light, you can watch the light as it goes forth and back while sanitizing your objects until the process is completed. The best part is that no UV light will be emitted outside the box when this unit is operating. And even if you open the lid, the bulbs automatically shut off, which means no harmful UV light will escape.
The 59S UV LightBox is built to last, thanks to its high-quality construction. It is rated to last 10,000 hours, which means you should get a good number of thorough sterilization sessions before this UV sterilizer's bulbs weakens.
It is obvious that this device is one of the best all-purpose UV box sanitizers when it comes to disinfecting a variety of small and medium-sized items. While other sanitizers are specifically built with smartphones in mind, you can use this sterilizer box to disinfect virtually everything that fits in it- from eyeglasses and smartphones to makeup brushes and toothbrushes.
Get this UV Sterilizer Box today!
59S UV sterilizer box
for Smartphone, Nail Art Make up Tools
Clinically Proven Kills 99.9% of Germs Viruses & Bacteria in 180 Seconds 8 UV-C LED 59S S2