Nowadays, people are concerned about sanitation. It is more important now than ever to keep our gadgets and supplies virus-free and germs free. That's why even the government is doing all it can to sanitize surfaces. And given the circumstances, this is understandable.
Yes, we are constantly washing our hands, but how do you keep your electronics clean? Clearly, soap and water cannot be used to clean these devices. And even if you use liquid sanitizers, they may end up damaging your electronic gadgets.
One solution remains- that is, to use UV box sanitizers. With UV lightboxes, you can sanitize and clean virtually anything that fits in these devices. Plus, with these devices, you don't have to worry about coming into contact with nasty chemicals or liquids.
Because of the rising demand for UV boxes, there has been an increase in their supply. Many brands are now making UV boxes, and it can be confusing to know which one is best suited for your needs.
However, it is not easy to go wrong with renowned brands. One of the most respected brands in making UV lightboxes is PhoneSoap. Having created PhoneSoap Go and PhoneSoap Pro, this brand has really done a commendable job in helping people keep their gadgets sanitized and clean.
And now, in this post, we will be reviewing HomeSoap UV Sanitizer, another popular gadget they have created. How well does it work? What are its major features? Is it worth buying?
Keep reading our detailed HomeSoap UV Sanitizer review to learn more.
HomeSoap UV Sanitizer
A UV-C SANITIZER FOR ALL HOME ITEMS. Two large, powerful UV-C lights and a patented inner reflection chamber guarantee 360-degree disinfection. In 10 minutes, kill 99.99% of bacteria on the surface of your items.
UV Light Sanitizer | UV Sterilizer Box | Sterilizes in Minutes with No Cleaning Required | Touch Screen Control | for Babies & The Whole Family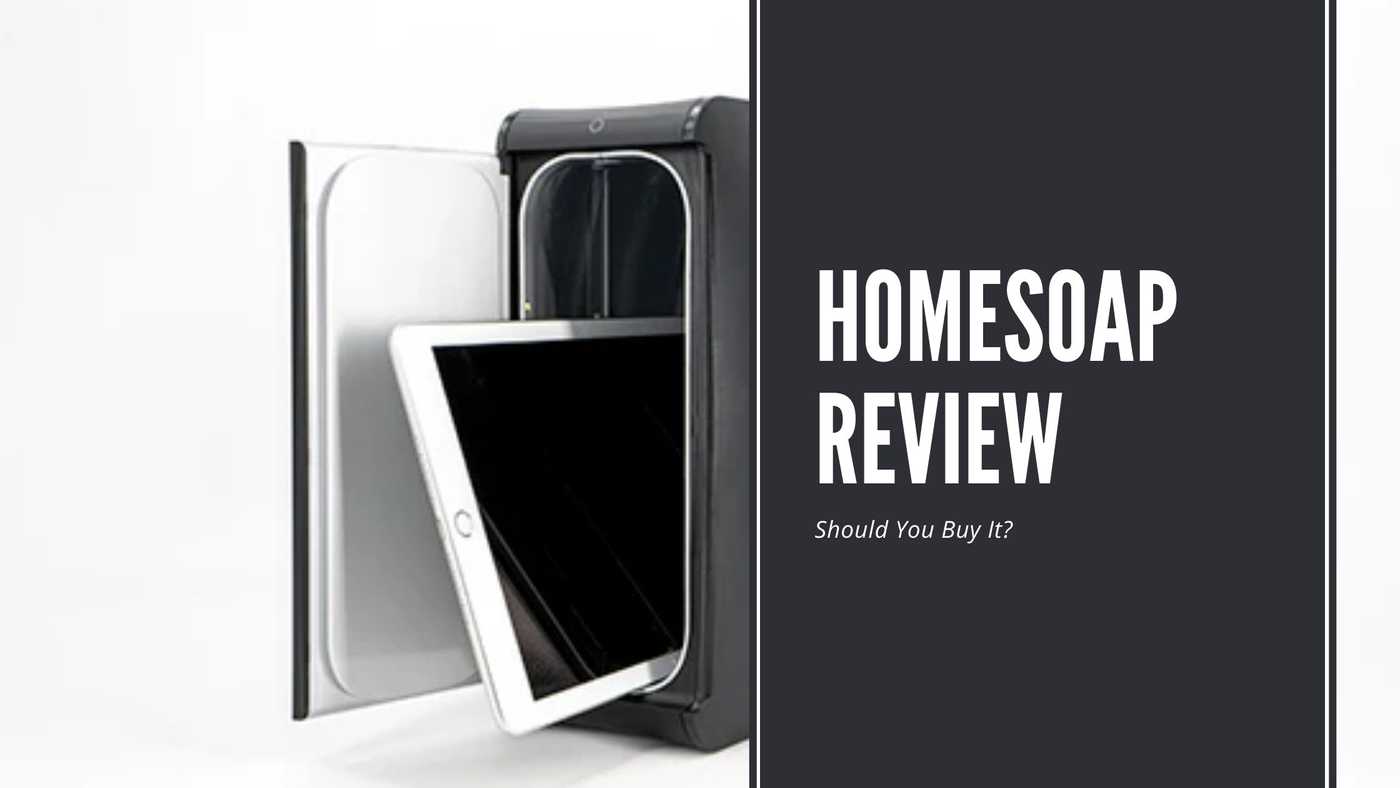 HomeSoap UV Sanitizer Overview
Bacteria and germs can be found everywhere. And now viruses too. Unfortunately, many of the germs, bacteria, and viruses can compromise our immune system and make us sick.
One of the surfaces that harbor a lot of these germs and viruses is our everyday electronic gadgets such as phones, iPads, and laptops. And because they are often warm, germs tend to grow on them at a faster rate. That's why you need a product like HomeSoap to sanitize them.
Just like the rest of the UV sterilizers made by PhoneSoap, the HomeSoap UV sanitizer uses UV-C light, a type of powerful light that can break the bond (DNA) that is holding viruses and germs together, thereby rendering them useless.
Measuring 5.95 by 11.5 by 15 inches deep, the HomeSoap sanitizer looks more like a computer tower, and you can get in white and black colors. The inside is spacious enough to fit an iPad, laptop, and even a keyboard.
To use it, simply open its door and put whatever you need to be sterilized inside, then close the door. The HomeSoap has both manual and auto modes. If you close the door after placing your phone, laptop, or keyboard, the device automatically begins the sanitization process. If you would like to restart the process, there is a button you touch, and the device will start its cleaning cycle again. You will see a glowing white light on the front part of this unit to indicate the sanitation process is going on.
The cleaning process takes 10 minutes, and PhoneSoap claims that this device cleans up to 99.99% of germs and bacteria on your gadgets. The UV-C is effective on non-porous surfaces. This means that soft items such as masks and hand towels can take longer to sanitize.
In addition to cleaning phones and tablets, this device can sanitize laptops, remote controls as well as non-electronics such as binkies and baby bottles.
You May Ask, How Does HomeSoap Work?
Before we talk about the features of HomeSoap UV sanitizer, it is important that we discuss how it sterilizers phones and laptops.
As you may already know, what makes this device effective is the UV-C radiation the bulbs fitted in it emit. This light has a wavelength of between 100-280 nanometers. This is a very powerful, energetic range that can kill bacteria and viruses. The light disintegrates RNA and DNA molecules that join together everything in living organisms.
The downside of this light is that if it comes into contact with human tissue, it can destroy it. Imagine a small amount of UV light that passes through the ozone layer sometimes causes sunburn, while repeated exposure can even lead to skin cancer; what about the powerful one emitted by these devices?
However, PhoneSoap takes all the necessary precautions to mitigate these risks. The bulbs only light when the door is closed, which means that you will not come into contact with any light.
In addition to this, the device cannot get started if the gadget placed in it is too big. This means that there are zero chances that you will come into contact with UV-C light emitted by this sanitizer.
Now that you understand how this device work, let's discuss the features;
Features and Benefits of HomeSoap Box Sterilizer
How effective is HomeSoap UV sanitizer in cleaning gadgets? Well, PhoneSoap claims that this sanitize can clean up to 99.99% of germs and bacteria. This is good enough to keep you safe under most circumstances.
You can rest assured that the gadgets you put inside HomeSoap will be thoroughly cleaned to perfection. There are no dead corners in this sterilizer since the UV light covers a 360 angle, which means that even the ends of your gadgets will be cleaned. You don't have to rotate your phone or electronic as it will be cleaned on all sides.
HomeSoap is made from anodized aluminum and looks more like a computer tower. It is not only sturdy but also durable, with edges that are slightly rounded.
Measuring 5.95 inches wide by 11.15 inches tall by 15 inches deep, PhoneSoap HomeSoap is relatively bulky and big. As a result, you will look for a place to put it.
HomeSoap pops open from the front in a similar manner to a locker. On the inside, there is a pair of UV-C bulbs; one placed on the bottom and the other one on top. These bulbs ensure that all areas of this sterilizer box are covered. They cover a 360-degree angle, which means that there will be no dead corners.
Plus, considering that it has a mirrored interior that reflects light all around the inside of the box, it means that your device will be sterilized in all areas.
Inside the door on the upper part of the interior, there are USB ports. One is a Type-A port, while the other one is a Type-C port. You can charge two devices simultaneously as they get sanitized. Therefore, you will not have to sacrifice any charging time if you want to clean your tablet or smartphone.
On the upper side, there is a lighting button that glows when the HomeSoap sterilizer is actively sanitizing devices. Since you cannot see how your phone or gadget is getting sanitized as the door is closed, this handy feature shows that the sterilization process is taking place.
The lightning bolt-shaped light automatically turns off once the sterilization process is complete. In addition to the HomeSoap Sterilizer box, you also get an AC power adapter for charging purposes.
Generous sterilization space
The large size of this unit enables it to accommodate larger devices. Its interior is fairly spacious, with dimensions of 3.66 inches wide, 9.24 inches tall, and 13.18 inches deep. With this size, this sterilizer box can accommodate a wide range of sizeable everyday devices such as game controllers, remote controls, tablets, laptops, Apple iPad Pro, and much more. Also, many keyboards can fit inside this sanitizer box.
Overall, any device that fits in the sterilization area can be sanitized. You can even sanitize your N95 face masks, even if they may take longer to get fully sanitized.
The HomeSoap couldn't be made simpler in terms of usage. Once you unbox it, you can just start using it immediately as it comes fully assembled.
As compared to many other sterilizer boxes in the market, HomeSoap is one of the simplest to use. It has a single button on the upper part of the case that turns on and off the cleaning cycle.
With just a touch of a button, you can turn the unit on and off. This button allows you to switch between the two modes- manual mode and auto mode. When in auto mode, the sanitizer automatically starts every time you place something in the sterilizer box and close the door. The sterilization cycle runs for 10 minutes. However, you can cut it short if you push the button again.
In manual mode, the sterilization cycle doesn't start until you shut the door. Instead, you will have to touch the button for the sanitizing cycle to start. The complete cycle in both auto mode and manual mode takes 10 minutes.
To switch from manual mode to auto mode and vice versa, you will need to press and hold the button for 3 seconds. The button flashes a light to notify you that the mode has switched.
Regardless of the mode you are using, make sure to wait for 10 minutes for complete sanitization to take place.
HomeSoap gives you a lot of options. As long as a gadget fits inside, it can be sanitized. However, just as we mentioned earlier, UV light is most effective on hard surfaces. Soft clothes and materials such as face masks may not get fully sanitized within the first complete cycle. You may need to flip it since UV light cannot access the entire material because the outer layers are blocking UV from penetrating into the inner layers. Keep in mind that UV light only sterilizes the surface it is coming into contact with.
Pros✅ and Cons❌ of HomeSoap UV-C Sanitizer
Pros✅
✅Can sanitize most of the gadgets at home. HomeSoap is 27 times bigger than the original PhoneSoap sanitizer. What this means is that it can disinfect bigger gadgets such as headphones, remotes, tablets, as well as kid's toys and bottles. If it can fit inside, it will sanitize
✅99.99% sterilization. This sanitizer is fitted with two large, powerful UV-C bulbs and has a mirrored interior to ensure 360-degree disinfection.
✅It is safe to use since it only starts the sterilization cycle when the door is closed, if in automatic mode. If in manual mode, the door has to be closed, and you have to touch the button for the cycle to start
✅It can double as a power bank
✅HomeSoap is clinically proven to sterilize gadgets to perfection. It can kill 99.99% of the germs on the surfaces the light reaches
Cons❌
❌It is relatively large and thus bulkier. If you are looking for a portable UV box sterilizer, this may not suit you
How to use HomeSoap UV Sanitizer
💬Final Thoughts: Should You Get HomeSoap?
The HomeSoap is a UV box we can recommend for a family looking for a proven cleaning solution for electronics and other small everyday items.
It is not only simple to use but also has a relatively faster cleaning cycle. In just 10 minutes, your device will be cleaned and completely sanitized. What's more, it can double as a power bank, which means you can charge your devices.
We can term it as one of the most effective home UV sanitizers on the market for large electronics such as laptops, keyboards, and tablets thanks to its large capacity. Keep in mind that its large size comes at the cost of being bulky, which makes it less portable.
In terms of being thorough, HomeSoap has two UV bulbs and a reflective interior. This enables it to sanitize every corner of your device. The UV lights cover 360 degrees. You can switch between manual and automatic modes, which is another extra feature worth a mention.
The only downside we can point out about HomeSoap is that it is a relatively large device, and thus may be hard to store on tables. You need to look for a place to keep it. Make sure you put it in an accessible area since it will become a regular appliance.
If you would like to safeguard your family health, order this device today!
HomeSoap UV Sanitizer
A UV-C SANITIZER FOR ALL HOME ITEMS. Two large, powerful UV-C lights and a patented inner reflection chamber guarantee 360-degree disinfection. In 10 minutes, kill 99.99% of bacteria on the surface of your items.
UV Light Sanitizer | UV Sterilizer Box | Sterilizes in Minutes with No Cleaning Required | Touch Screen Control | for Babies & The Whole Family