Chances are that you are reading this on your phone?
Our phones are normally on our hands most of the time. But the truth is that we never clean or sanitize them as often as we wash our hands.
Ever wondered what kind of germs and microorganisms might be smeared on your phone casing or the cash in your wallet?
Before you write-off these concerns, you might be surprised to know that most smartphones can harbor more bacteria than the average home toilet seat. Yes, you read that right.
In fact, one study found out that mobile phones can host over 17,000 bacteria. Now imagine the number of germs in your handheld items such as cash and car keys- you will realize that it is quite shocking.
This is not to mention the fact that COVID-19 has necessitated one to maintain high personal hygiene even further.
Fortunately, there is an easier way of cleaning all these items- using UV sterilizer boxes. The good thing about these devices is that they can clean and sterilize all your items as you relax. You can sanitize your cell phone, keys, and other personal items, as well as baby items easily using UV Sterilizers.
One of the best UV sterilizers for 2022 is EVLAs UV Light Sterilizer Box. This device uses a the specific wavelength of light to kill harmful microbes, which makes it ideal for sensitive electronics.
In fact, it eliminates over 99.9% of bacteria and viruses. The use of UV light also makes them great for sanitizing delicate items such as eyeglasses and N95 respiratory masks.
Want to learn more about this device and its features? Here is our detailed EVLAs UV Light Sterilizer Box review.
EVLAs UV Light Sterilizer Box
Bottle Sanitizer & Dryer | Sanitizes in Minutes with No Cleaning Required | Touch Screen Control | For Baby & The Whole Family
😷 UV SANITIZER BOX FOR YOUR WHOLE FAMILY | ⏲️ SANITISES IN JUST 11 MINUTES | ❤️ NO CLEANING OR DESCALING | 🔌 GO GREEN | 👨‍👩‍👧‍👧 A FAMILY BRAND YOU CAN ALWAYS TRUST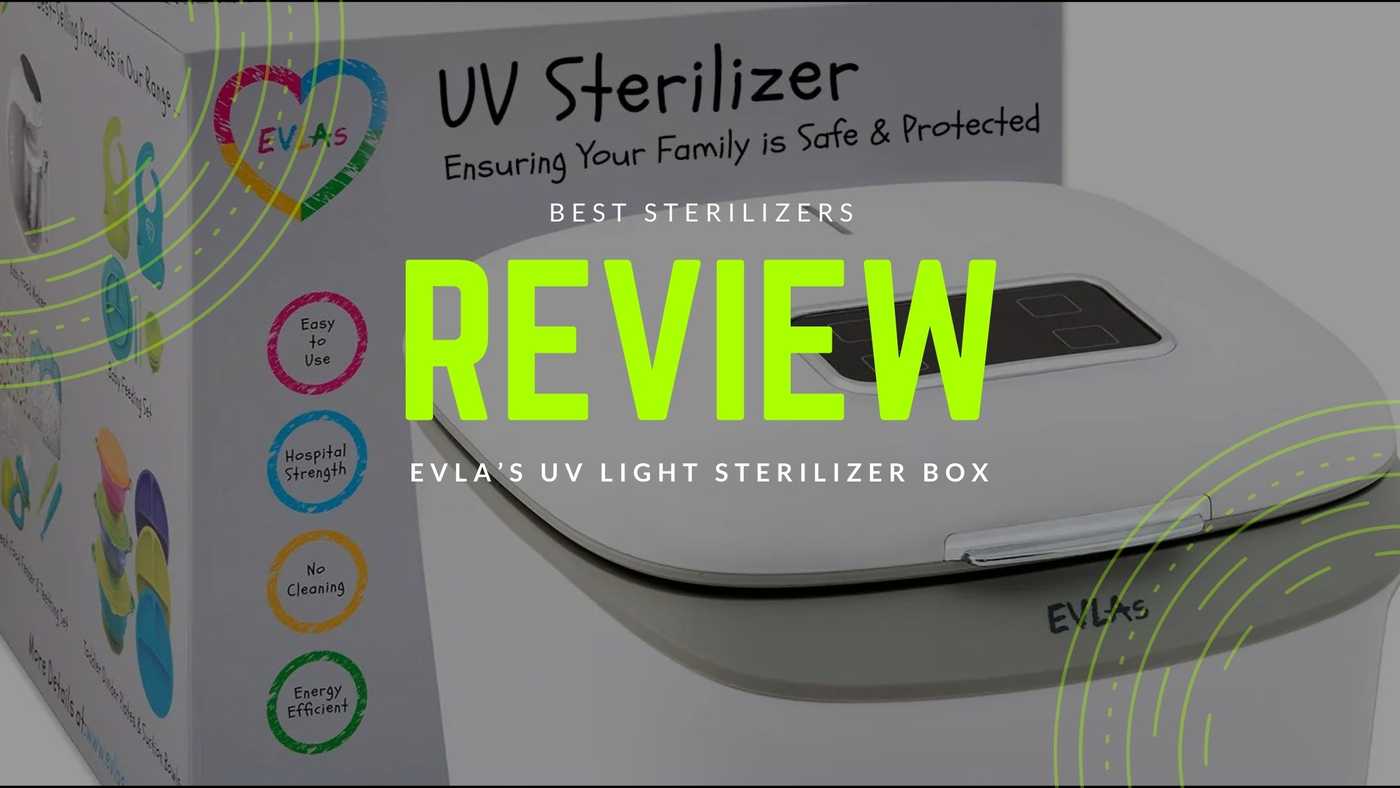 📦Inside The Box
EVLA's UV Light Sterilizer Box comes in standard minimalistic packaging. One of the sides of the box bears the image of this product as well as some technical information on its side. Inside the box, you will find the EVLAs UV Light Sterilizer Box itself, charging cable, and the user manual.
📐Design
The EVLAs UV Light Sterilizer Box has a very simple design that complements its easy-to-use functions. Like many other box sterilizers, this too has a minimalistic white body and light- grey lid.
In terms of size, this light sterilizer box by EVLA is not as small as it looks. With dimensions of 13.4 x 7.4 x 12.1 inches, you can fit in several baby bottles as well as everyday items that need to be sterilized, such as jewelry, watches, eyeglasses, etc. On the upper side of the lid, you will find a touch panel that shows a timer. What's more, this light sterilizer has four rubber feet that are anti-slip to prevent the device from falling or sliding off counters easily.
Overall, the EVLA's UV Light Sterilizer Box is designed to be easy to use. It has a smooth, the comfortable surface that feels great to touch.
Function and Usage
The EVLA's UV Light Sterilizer Box is extremely easy to use. All you have to do is to place the item you want to sterilize inside this box and close the lid. Press the button on the touchpad and wait for 11 minutes for this device to effectively clean and sanitize the object. That's it! It is important to mention that this sterilizer will not turn on if the lid doesn't sit properly on its body. The device has an LED indicator that shows the timer countdown. Therefore, you will get to know how many minutes are remaining before the sterilization is complete and thorough.
Functionality
The EVLA's UV Light Sterilizer Box uses the new type of deep Ultra-Violet light source to kill germs, bacteria, and other microbes effectively. This UV-light generates enough wavelength to destroy the RNA/DNA of viruses and bacteria, thereby killing it.
Unlike traditional sanitation methods that use chemical or hot water, this box sterilizer uses UV lights, which do not damage your device.
The light emitted inside the box is reflected in every corner, thanks to the reflective interior. This ensures no dead corners, and thus cleans and sanitizes your object effectively. Cleaning Efficiency
UV light kills 99.9% of viruses, bacteria, and fungi. In fact, it is one of the quickest and most effective forms of sterilization. That's why it is used in labs and hospitals to sterilize surgical equipment.
However, it is important to mention that the effectiveness of sanitizers depends on the type of sterilizer used and how it is used. In other words, how an object is positioned determines a lot about how thorough the sterilization process will be.
With EVLA's UV Light Sterilizer Box, the object is placed on the bottom surface, which has removable partitioning, to hold items in place. What's more, the reflective interior ensures that the UV lights are reflected in an angle of 360 degrees, which means that all the corners of the box are reached. This ensures no dead corners.
What's more, you can sterilize different shaped items in this device because of its boxed shape.
In terms of sterilization efficiency, the EVLA's UV Light Sterilizer Box is quite faster than others. Of course, it is not the quickest box sterilizer in the market, but it is very convenient since you only have to wait for 11 minutes and sterilization will be complete.
However, it is worth noting that dirtier items are likely to take longer to be fully sterilized. Therefore, things like N95 masks can take longer to sanitize. It is also important to mention that UV light does not remove dirt and residue, and thus ensure that you clean off any residue on your items before placing them in this UV sterilizer.
⛑Safety Features
It is true that UV light is not friendly to human skin and can cause serious damage if it penetrates the skin. That's why EVLA took all the safety measures to ensure that you don't come into contact with UV lights emitted by their sterilizer.
For instance, this UV sterilizer cannot turn on if the lid doesn't sit fully on the body. This ensures that no UV lights are emitted outside the body. And if you open it before the timer goes out, the device turns itself off immediately.
However, it is important to take extra precautions when using these devices, such as wearing protective gloves and goggles.
Another thing that makes this sterilizer safe is the use of UV lights. Some UV sterilizers combine chemicals to clean items. Such products are better avoided if you want to minimize health risks. Also, the majority of the sterilizer on the market use UV-C light, but EVLA's UV Light Sterilizer Box uses UV lights, which is considered safer due to its lower wavelength.
Roomy Interior
With this UV light sterilizer box from EVLA, you can clean a variety of things. Majorly, this device is designed to help parents clean baby bottles. Therefore, if you are looking for hospital-strength sterilization for baby bottles, toys, and binkies, then the Evla's UV bottle sterilizer is the ideal germ-killing unit. This unit is large enough to accommodate a half- dozen of small baby bottles, rings, caps, and nipples.
It can also be used to clean smaller, handheld items such as keys, earphones, toothbrushes, cellphones, and lots more household items that may harbor germs. Also, it can sterilize bulkier items such as wallets and glasses. This makes them ideal for the whole house. And for people with smartphones that have large screen sizes, this sterilizer may be all that you need as it can accommodate all sizes of phones.
Sturdy and Durable
You don't want to invest in a sterilizer that is fragile or one that will malfunction after several uses. EVLA made this sterilizer with longevity in mind. For instance, it is made using safe, solid plastic that is BPA free and comes with long-lasting bulbs. What's more, the bulbs are replaceable, which means that when the first set becomes obsolete, you can replace them with other UV lights.
We can comfortably say that this unit is robust, and thus you can rest assured that it will serve you for many years to come, if well maintained.
Pros✅ & Cons❌
Pros✅
✅It has a big carrying capacity. This device can accommodate several baby bottles together with their nipples. If you remove its partitioning, you can sterilize other odd-shaped items such as toothbrushes, cellphones, and much more. In other words, you can keep your family healthy and safe
✅Sterilize in a short time. This light sterilizer box is very convenient. It can sterilize phones, credit cards, keys, work passes, baby bottles, etc. in just 11 minutes. What's more, it has a convenient drying cycle for baby bottles
✅Requires no descaling or cleaning. Unlike traditional steam sterilizers that calls for daily cleaning to keep limescale and rust at bay, this device uses ultra-violet light to sanitize your items, and thus requires no descaling or cleaning
✅Lower power consumption. This device is made in a way that it consumes very little power compared to traditional steam sterilizers. What's more, it requires no water
✅Safety comes first. EVLA doesn't compromise on safety. This UV sterilizer is not only FCC, and ETL approved but also doesn't contain any harmful materials. It is BPA-free, lead-free, and phthalate-free. Therefore, you can rest assured that it is safe for your home.
Cons❌
❌It is not as roomy as most traditional baby bottle sterilizers
❌The unit is pretty expensive, but you can expect this as it is one of the best UV box sterilizers on the market
❌It is not conveniently designed to be portable. Therefore, if you are looking for a portable unit you can use to sanitize surfaces, then this might not be the ideal option
Frequently Asked Questions about EVLA's UV Light Sterilizer Box
How does this sterilizer box work?
This device has a compact, enclosed chamber with UV-light arranged in a specific manner. This way, it hits the object in all angles, and within 11 minutes, the sterilization process will be complete.
UV light, when focused and concentrated, disrupts the bonds that hold microbes' DNA together. Without a functioning DNA, viruses and bacteria cannot replicate themselves or even perform their normal cell functions. This means their colony dies off.
How effective is this sterilizer?
As we have mentioned several, this box is fitted with UV lights that reach every corner, as well as the top and bottom surface of the items placed in it. EVLA claims that according to the tests done by certified institutes, this UV sterilizer can kill up to 99.9% of germs and bacteria, including Candida Albicans, E Coli, and Staphylococcus aureus. The application of UV light inappropriate wavelength disrupts bacteria and viruses.
Should I be worried about its safety?
Absolutely NO. This UV sterilizer has all the safety features in place. For instance, it cannot be turned on unless the lid sits comfortably on its base. Also, it only runs for 11 minutes, which means that you will not be worried even if you forgot to turn it off.
💬Final Thoughts
The EVLA's UV Light Sterilizer Box has handy features of being able to sanitize not only baby bottles and toys but also phones and other small, handheld items. Compared to other UV sterilizer models, this Evla sanitizer offers more versatility and a more functional overall design.
Traditional UV sanitizers required one to leave items inside them for long cleaning sessions, but Evla UV sanitizer only has an 11-minute cleaning cycle, which is very convenient. While it is primarily marketed as a baby bottle sterilizer, you can use it to sterilize many small items. The sanitizer is large enough for all smartphone models, as well as other handheld items such as keys and wallets.
Finally, the Evla UV sanitizer has many certifications, making it a popular choice for people who are looking for a reliable, trusted brand. Evla terms this sterilizer as FCC and ETL approved, as well as BPA-, lead-, and phthalate-free. Also, Evla claims that this unit can destroy 99.9% of germs.
All these beneficial features make us recommend it to everyone who is looking for a UV sterilizer box.
Many people are buying it because of its effectiveness in eliminating germs and its versatility. Get it today!
EVLAs UV Light Sterilizer Box
Bottle Sanitizer & Dryer | Sanitizes in Minutes with No Cleaning Required | Touch Screen Control | For Baby & The Whole Family
😷 UV SANITIZER BOX FOR YOUR WHOLE FAMILY | ⏲️ SANITISES IN JUST 11 MINUTES | ❤️ NO CLEANING OR DESCALING | 🔌 GO GREEN | 👨‍👩‍👧‍👧 A FAMILY BRAND YOU CAN ALWAYS TRUST