I. Introduction
UV sterilizer boxes are all the rage right now and once you discover what they can do, you'll understand why. Almost any item in your home, including your cell phone and jewelry, is covered with bacteria and viruses at any given point, which can cause sicknesses whose origins you might then be curious about. Because of this, you need an easy way to get rid of those things and a UV sterilizer is the answer.
UV sterilizer boxes use ultraviolet light to eliminate nearly 100% of bacteria, viruses, and germs and they do it quickly and efficiently. MostIn fact, most of these sterilizers work their magic in a matter of minutes, although some may take longer than that. This is why it's important to read the directions on the sterilizer you purchase toin order to keep the items in there as long as they need to be.
If you're unfamiliar with these amazing sterilizing devices, do not worry because here you will get all of the information you need to decide which UV sterilizer box is right for you.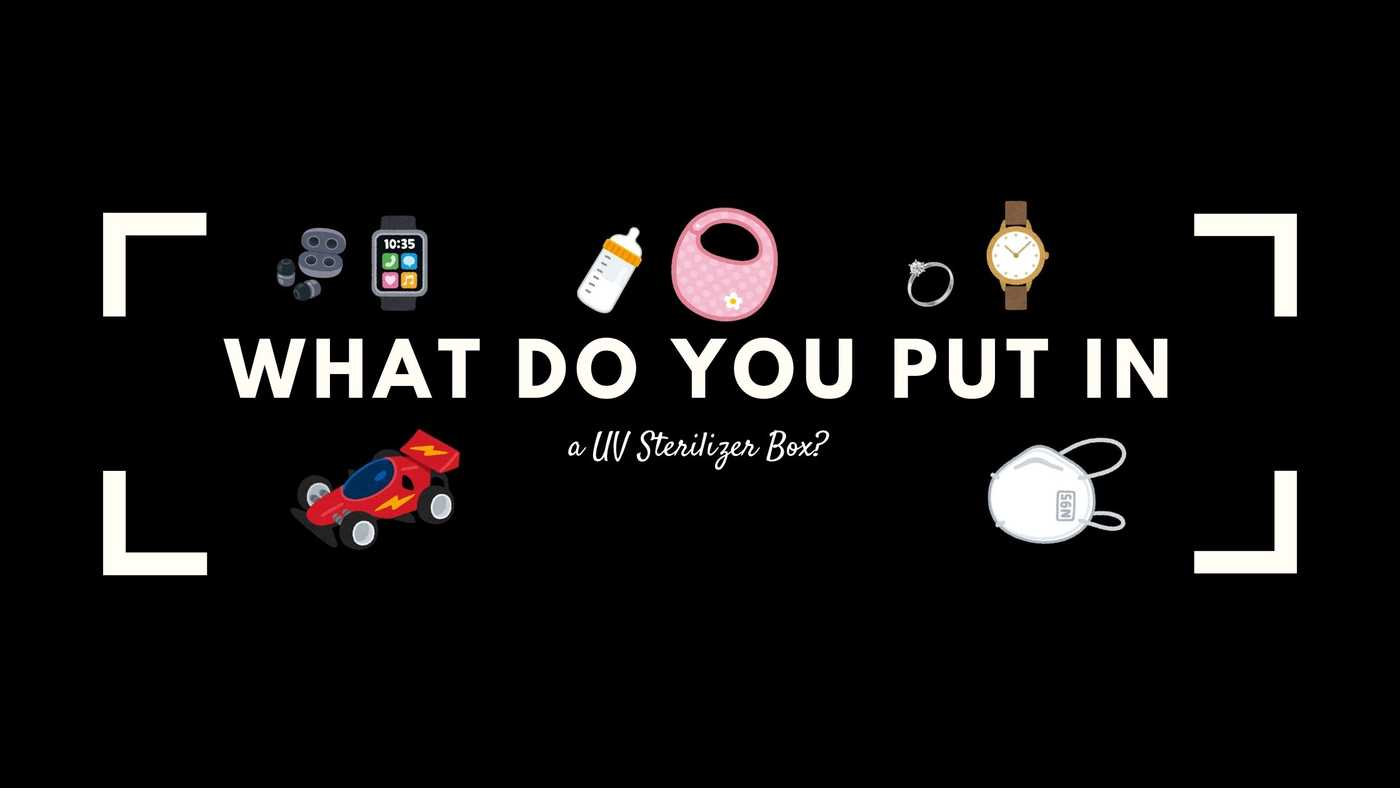 II. What Can UV Sterilizers Clean?
So just what do you put in a UV sterilizer box to get it properly cleaned and sterilized? You can do this with more items than you like are aware of, including the following:
Standard Everyday Items
You'll be surprised by how many ordinary, everyday items you have around the house that you can get nice and sanitized with a UV sterilizer box. Although some porous items won't get sterilized properly with one of these boxes, most non-porous items will be just fine. These include the following:
All types of toys (including the adult variety)
Glasses (both the drinking kind and the wearing kind)
Jewelry (including earrings, bracelets, necklaces, etc.)
Keys
Nail tools such as metal nail files, nippers, nail clippers, etc.
Tweezers
B. Cell Phones and Electronic Devices
Electronic devices of many types can be placed in a UV sterilizer box to get extra clean. Electronic devices have lots of cracks and crevices that dirt, germs, and bacteria can get into and it is nearly impossible to get those areas clean with your bare hands. UV sterilizers will make sure that every one of those difficult-to-reach areas is clean and sterilized within just a few minutes.
Some of the many items that you can sterilize in one of these boxes include:
Earbuds
Notebooks
Smartwatches
Tablets
Recommend: Should I Buy a UV Sterilizer Box for My iPhone?
C. Baby Products and Home Care Products
Mothers have been sterilizing baby bottles and other baby products forever and now there's a much easier way to do this. Below are just a few of the items in your baby's nursery and in your bathroom that you can choose to sterilize with a UV sterilizer box:
Baby bottles
Brushes and combs
CPAP supplies
Makeup brushes
Most other metal home care items
Pacifiers
Regular and serving utensils
Scissors of all types
Sippy cups for toddlers
Toothbrushes
Towels and washcloths
D. Miscellaneous Items in Your Home or Office
Because most UV sterilizer boxes are portable, you can bring them anywhere you go, including to a hotel room when you travel and even to your office. If you have a metal pen and pencil set, for example, they can be sterilized with one of these boxes. Some of the many household and office items that can be sterilized in these kits include:
Combs and brushes
Credit cards
Disposable N95 masks and other masks
Latex or vinyl gloves
Name tags
Shavers/razors
Tools
Underwear and socks
Watches
E. UV Sterilization and Covid-19
Many people are wondering if UV sterilization boxes can kill the coronavirus Covid-19; although the results of studies have been mixed, most of them agree that this type of sterilization can indeed kill this type of virus since it does kill other types of the coronavirus. However, a few things need to be kept in mind.
First of all, you still have to give your hands a thorough washing before placing them in any type of UV light. If you can't do this with soap, water, and proper washing techniques, then at least use a hand sanitizer with a high alcohol content. Second, keep in mind that there are risks when it comes to using UV light, especially on your skin, so if you're going to use a UV sterilizer to get rid of coronavirus germs, you should weigh the risks against the benefits to make the right decision for you.
Recommend: How to kill Covid-19 by UV Sterilizers for your Smartphone
III. Let's Take a Look at Some UV Sterilizer Boxes
If you're curious about some of the UV sterilizer boxes that have the highest ratings, take a look at the ones below, which all have high customer ratings and great reviews from objective reviewers.
EVLAs UV Light Sterilizer Box
🏆 𝐏𝐀𝐓𝐄𝐍𝐓𝐄𝐃 ™ & 𝐌𝐔𝐋𝐓𝐈 𝐀𝐖𝐀𝐑𝐃 𝐖𝐈𝐍𝐍𝐈𝐍𝐆 𝐏𝐑𝐎𝐃𝐔𝐂𝐓 – 𝐌𝐨𝐦𝐬 𝐂𝐡𝐨𝐢𝐜𝐞 𝐆𝐨𝐥𝐝, 𝐍𝐀𝐏𝐏𝐀 & 𝐁𝐚𝐛𝐲 𝐌𝐚𝐭𝐞𝐫𝐧𝐢𝐭𝐲 𝐌𝐚𝐠𝐚𝐳𝐢𝐧𝐞 🏆
UV Light Sanitizer | UV Sterilizer Box | Sterilizes in Minutes with No Cleaning Required | Touch Screen Control | for Babies & The Whole Family
Made to sanitize everything from name tags to baby bottles, the EVLAs UV light sterilizer box is large to accommodate numerous items and has an easy-touch display screen that makes it both fast and simple to get the process started. Not only does this sterilizer have five-star reviews on sites such as Amazon but it has been consistently rated very high by busy moms who need the perfect sterilizer for their babies' care items.
Furthermore, unlike many other sterilizing units, this one requires no cleaning or descaling beforehand, which saves you a lot of time and inconvenience in the long run. It sells for $180 but is able to sanitize dozens of items. It is free of phthalate, BPA, and lead. Best of all, it works its magic in only 11 minutes so you don't have to wait long to take the steps necessary to keep your family safe day in and day out.
SUNUV UV Light Sanitizer Box
Pro-UV Light Sanitizer with EPA: EPA Est. No.95175-CHN-1.S2 sterilizing box. The Choice of Healthier Lives: 59S specializes in UV LED cleaners based on the daily needs.
UV Light Sanitizer,UV LED Sterilizing Box for Mobile Phone,Glasses,Watches,Nail Tool,Beauty Tool with 8 LEDs 59S S2
This UV light sanitizer box can handle any of your home care or beauty items including nail clippers, nail files, watches, and, of course, cell phones. It has an overall four-star rating on sites such as Amazon and others. It has a total of eight LED lights to sanitize all of your personal items and its price of around $80 makes it affordable for nearly everyone. It can also work its magic in just three minutes, which means that you won't have to wait very long to have cleaned and sterilized belongings for your home or office.
Best of all, there is a piece of reflective glass at the bottom of the box so the LED lights hit every single angle of any items that are inside of the box while it is operating. Daily-use items such as watches and keys have cracks and crevices that are nearly impossible to clean but a UV light can get deep into all of them and turn them from debris-filled and unsanitary to super clean and sterilized in no time. It cleans quickly and safely every time, keeping you and your family much safer afterwards.
GROWNSY UV Light Sanitizer Box
4-IN-1 UVC Light Sanitizer
UV Light Sanitizer UV Sterilizer Box UV-C Clean Sterilizer and Dryer for Baby Bottle/CPAP/Toys/Clothes/Toothbrush/Beauty Tools/Tableware/Phone
This four-in-one sterilizer box can be used for sterilizing, drying, storage, and for a sterilizing/drying combination. It is also very large with the capability to accommodate a total of 12 baby bottles without taking up too much room on your countertop. It is so large, in fact, that you can use it both in the home and even in small businesses and commercial entities. It even has a sleek design for extra aesthetic appeal so it will look good regardless of where you put it.
The GROWNSY UV light sanitizer box is nearly ten inches wide and ten inches tall so it is the perfect size without being too small or too big. Priced at just under $160, it gets rid of up to 99.99% of all germs and viruses and it does so in only 16 minutes. If you want an efficient sterilizer that looks good and works great, this is the one you want because even though it was made for new moms, it works wonders with dozens of other items as well.
HoMedics UV-Clean Portable Sanitizer
PORTABLE PROTECTION: Keep your phone clean by utilizing patented pop-up technology and UV-C LED sanitizing
HoMedics UV-Clean Phone Sanitizer | Faster Than Any UV Sanitizer On The Market | Kills Up to 99.9% of Bacteria & Viruses at The DNA Level | Mercury and Chemical Free (Purple)
HoMedics is a well-known brand and there is little wonder why. This portable sanitizer has earned an overall four-star rating from websites such as Amazon. As its price is only $80, you won't have to break the bank just to get a high-quality sterilizer box that works. It kills up to 99.9% of germs, bacteria, and viruses and its soft purple hue makes it aesthetically appealing as well as functional. It can sanitize everything in just one minute and it even has special clips to keep your smaller belongings in place as it cleans them.
Even better, you can take this sterilizer with you wherever you go. If you travel a lot for business or pleasure, you can still keep all of your personal belongings clean and sanitized. It is even able to provide 18 full cycles for every charge, which means that you won't have to be continually charging the unit in order for it to work. Whether you're on the go or not, you can benefit from the many perks this unit offers and it will simply feel good to know that you're protecting your family and keeping them healthy year after year.
IV. Things You Need to Remember About UV Sterilizers
UV sterilizers work by utilizing special fluorescent bulbs that emit a light at a wavelength of 253.7 nanometers. The ultraviolet lights target microorganisms such as bacteria and viruses and eliminate them for good. Because it is a light and not a cleaning cloth or some other type of cleaning instrument, it will get down into every crack and crevice so that you don't have to take hours trying to deep clean a device that may not want to be deep cleaned.
Does this mean that you can simply place items inside of the UV device and forget about them? For all practical purposes, the answer to that question is "yes," which is why the devices are now so popular. Still, there are things you should keep in mind to make its job a lot more efficient and below are some of those things:
Always close the sanitizer tightly before you turn it on. UV light can be dangerous and you'll want to protect yourself from it as much as possible. Keep in mind that not everything can be cleaned with a sterilizer. Always read the instructions that come with your sterilizer to learn what it can and cannot sterilize. Never clean your sanitizer box with soap and water or anything else unless the instructions clearly state that you can use those things.
Since UV lights work so quickly to sterilize your belongings, they typically do not emit enough harmful rays to do you any damage so this is not something that you need to worry about. Try to find a unit that lasts longer and that you'll just replace instead of just replacing the bulbs once they burn out. Replacing bulbs when needed can be more trouble than it's worth. Essentially, if your belongings can fit on the inside of the sterilizer box, then they can be sterilized. If your cell phone is extra large or you already know that you're going to be sterilizing items of a certain size, you should go ahead and look for a UV sterilizer box that can accommodate you.
V. Conclusion
UV sterilizer boxes work for more than just cell phones and they can eliminate up to 99.99% of all viruses, bacteria, and germs. While most of them have similarities when it comes to their features and benefits, they do differ slightly in some ways, which means that you have to research them carefully to make sure you get exactly what you need.
Sterilizer boxes do indeed work; in fact, many people are surprised by how many different household items they can clean. Best of all, they clean these items from every angle so by the time the sterilizer box goes off, you can trust that your belongings will be cleaned and sterilized from time to bottom.
Most UV sterilizer boxes are also less expensive than most people realize, which means that you can get the one that does you the most good without breaking the bank.