One of the free things we often take for granted is clean air. While in the past the air was cleaner because of the low pollution level, today, the air we breathe has a lot of tiny pollutants that often make us sick and fatigued.
Scientists measure the quality of air through particulate matter (PM). This is why you often see an air quality gauge that appears on the weather app on your phone. Pollution, which is often the main culprit of poor air quality, sometimes comes from different sources, including wildfires and dusty areas.
People with sensitive lungs can experience respiratory issues because of breathing in air that is highly polluted by molds, mildew, pet dander, dust, smoke, or other allergenic compounds.
When outdoors, you can easily wear a mask to filter big particles in the air, but at home, you need something that cleans the air for you. And this is where AZEUS Air Purifier. This is one of the best UV air purifier models in the market.
To help you understand whether or not it is the best for you, we have compiled a detailed review to help you learn more about its features and other crucial details.
AZEUS True HEPA Air Purifier for Home
up to 1080 sq ft Large Room, UV light | Ionic Generator | Office or Commercial Space | Filter 99.97% Pollen, Smoke, Dust, Pet Dander | Auto Mode | Air Quality Sensor | Night Light
7-in-1 Purification Systems:TRUE HEPA FILTER(Pre-filter, True HEPA filter, Activated Carbon & VOC Absorber, Formaldehyde adsorption particles, Anti-bacterial Treatment), a UV-C Light Sanitizer and a Negative Ion Generator.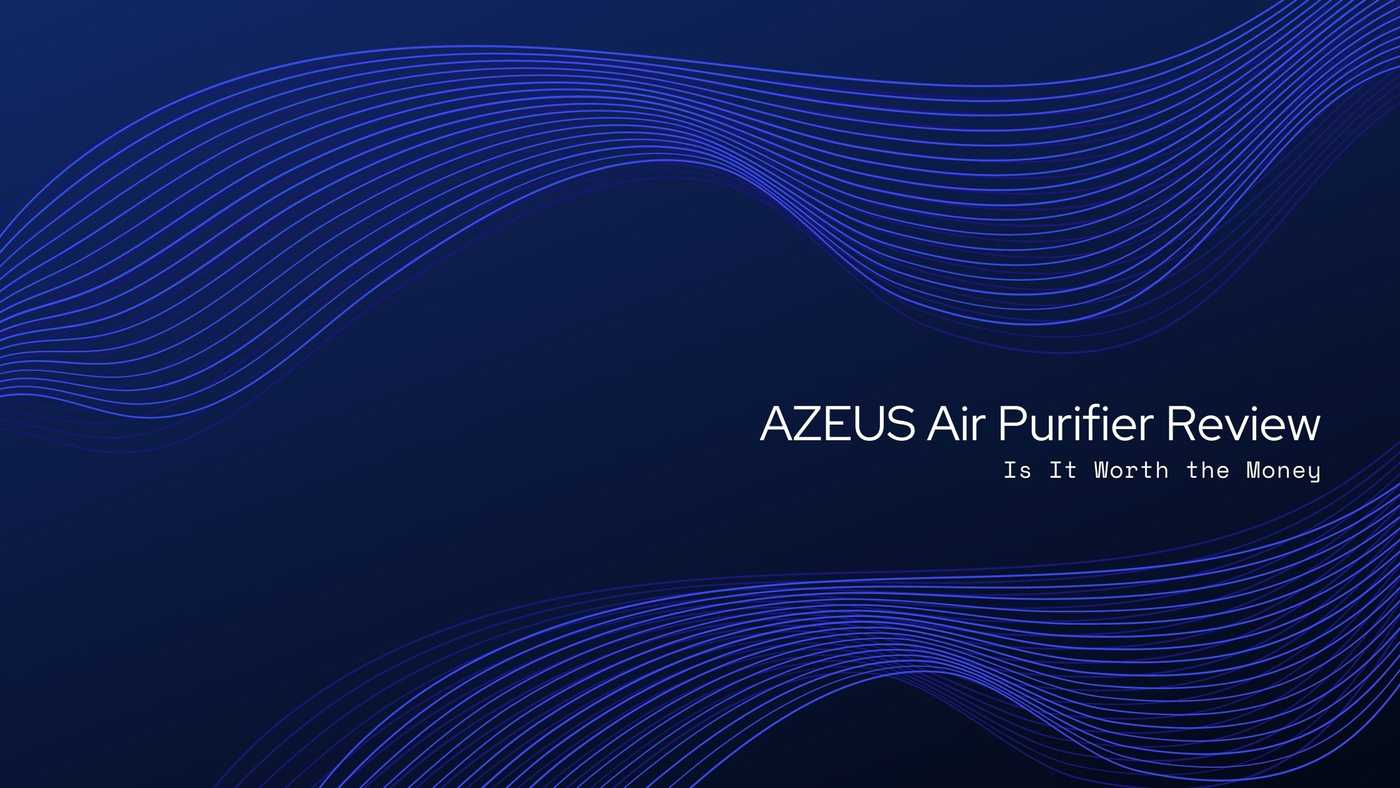 AZEUS Air Purifier Review
This is one of the safest air purifiers in the market and a great device to clean air in large rooms. AZEUS can clean up air up to 5X in a 540ft room. With AZEUS Air Purifier in your home, dealing with any unhealthy and unclean air will not be a problem.
It can eliminate up to 99.97% of pollutants from the air, which means that you will enjoy clean and fresh breathing air in your home.
Its filter has three pre-filter layers, including activated carbon, HEPA filter, anti-bacterial treatment, etc. Therefore, in addition to eliminating pollutants from the indoor air, AZEUS Air Purifier also eliminates bacteria in the air to keep you safe from respiratory issues caused by pollutants.
In addition to having effective filters and bigger coverage, this purifier doesn't consume a lot of power and thus can help you save more energy. Also, it will not interfere with your sleep since, unlike many other air purifiers, this device doesn't have a night light.
It's Features at a Glance
Filtration System
AZEUS Air Purifier offers different stages of air filtration, which means that the air in your home will be fresh and clean always. The fine pre-filter captures pollutants with large particles such as dust, fur, pet dander, and lint.
The HEPA filter filters out mold, smoke, odors, pollen, and remaining dust particles. This eliminates 99.97% of pollutants in the air that are 0.3 microns in size.
Therefore, if you have babies or pets, then this will be a great device for your family. It also features an activated carbon filter that eliminates pet smell, kitchen odors, cigarette smoke, and other nasty odors coming from the outdoor environment.
Noise Level
This device runs quietly, with its voiceless noise level being 25 dB and the highest noise level being 56dB (this is when the fan is rotating at high speed).
There is a sleep mode that runs quietly with LED lights shut off to ensure the purifier doesn't disturb you at night- when in this mode, this device is dark and quiet.
In addition, the sleep mode also saves energy as it only needs 19 watts. You can set it to run for between 1 and 8 hours, after which it will revert to its standard mode.
Power Consumption
AZEUS air purifier is an energy-efficient device with a power consumption rate of 24 watts when in standard mode and 19 watts for sleep mode. Therefore, you don't have to worry about the device hiking your electricity bills.
How AZEUS Air Purifier Work
This air purifier by AZEUS uses a 6-step process to purifier the air where it is installed. Air passes through 6 pre-filters including, a HEPA filter, anti-bacteria treatment, negative ions, activated carbon filter or Formaldehyde absorption particles, and finally, through UV-C light sterilizer.
The HEPA filter can eliminate 99% of pollutants from the air that are less than 0.3 microns and 95 particles of 0.003 microns.
To confirm this, the California Air Resources Board has given AZEUS Air Purifier the following safety certifications;
ETL Certification
CE Certification
FCC Certification
100% safety for home use
More about AZEUS Air Purifier
Setting up This Unit
The AZEUS Air Purifier has an easy setup process. When you take it out of its packaging, you remove the front panel to access the air filter. There is also a plastic cover fitted over this filter to keep it clean and new. Be sure to remove it, or else your air purifier will have trouble because the bag interferes with the air flowing into the device. After doing this, you just need to plug it in a standard socket and turn it on. On the upper side are touch buttons that have on/off buttons, fan speed, timer, and ionizer buttons.
Filtration System
This air purifier has an impressive filtration system, including a pre-filter that captures allergens that have large particles such as pet hair and dust, a True-HEPA filter that captures 99.97% of particles that are less than 0.3 microns such as mold, pollen, dander, and bacteria, and Activated carbon filter to absorb smoke odors, food odors, and pet odors. All these, coupled with UV-C, cleans indoor air thoroughly for you.
The unit has been certified to meet all the safety standards set for indoor cleaning devices. This ensures that it follows strict standards for how it is supposed to work and the quality of air it is supposed to release.
Therefore, if you have problems with indoor pollutants and allergies, this purifier will keep them at bay. It will also put out negative ions as well as dust, pet dander, pollen, viruses, bacteria, and many other allergens.
Timer and Fan Modes
When it comes to the fan's timer, AZEUS Air Purifier can be set to run for 1 hour to 8 hours. Therefore, you have the option to manually set it for the duration you want it to clean your indoor air.
Also, it has both the standard mode and sleep mode. The standard mode uses 24 watts while the sleep mode uses 19W and is extremely quiet. Even if you are a light sleeper, this device will still not interfere with your sleep.
There are different lights indicating the level of air cleanliness- blue light means that the air is fresh and clean, green means that there are moderate pollutants, while red means that air is unhealthy.
Therefore, you will always know when to use high fan speed and when to switch off your unit to preserve energy.
Cleaning Efficiency
This air purifier doesn't need a lot of space in your home and thus can be stored even on tabletops. In terms of cleaning efficiency, this air purifier takes 12 minutes to clean air in an area between 380 and 540 sq. ft. Therefore, if you place it in a small room, the unit will take a shorter time to clean the air in the room.
Therefore, for people with pets, you will appreciate how fast this unit cleans the air. Within 10 minutes, the unit will turn blue, which means that the air will be cleaned again. If it operates for one hour, it means that it can clean air in that room five times. AZEUS also has a remote control that allows you to operate all its options from a distance.
Pros✅ and Cons❌
Pros✅
✅3 Fan Speed. AZEUS comes with three fan speeds, which means you can manually set it at low, medium, or high fan speeds
✅Replacement filters are readily available. With AZEUS, you need to replace its filters every six months or even sooner, depending on the level of pollution in your area. You can easily get a replacement filter on various websites.
✅Quiet operation. With a minimal noise level of only 25dB, the AZEUS air purifier cleans your indoor air without making unnecessary noise.
✅High-Efficiency Air Purifier. This UV air purifier circulates air over five times per hour, which means that you will have a faster air purification rate than when using many other air filters. Also, this air cleaner covers an area of up to 540 ft. sq. / 35M sq. making it ideal for large spaces
✅Sleep mode. There is a sleep mode, which runs quietly so that your sleeping is not interrupted. The night light can be turned off to reduce interruptions from this machine at night.
✅It has an additional ionizer as well as UV-C sterilizer to kill bacteria and viruses in the air
✅Saves energy when operating on night mode
✅It is ozone-free and thus safe
✅This unit is lightweight
✅Comes at a reasonable price
✅It is good for pets and allergies
✅Runs quietly
Cons❌
❌The light can sometimes be too bright during the day and night for some people
❌Changing the filter can be a little bit technical
Frequently Asked Questions about AZEUS Air Purifier
Which is the ideal place to position the AZEUS AIR Purifier?
To work properly, the most important point to consider is airflow. This means that for this air purifier to work efficiently, it should be positioned away from furniture, walls, and other objects that may block a smooth airflow path. This makes it possible to get air in and clean air out of the purifier.
Does the filter eliminate mold and bacteria?
The filter isn't treated with antimicrobial substances and thus cannot kill bacteria, mold, and viruses. However, this air purifier is fitted with a UV-C, which can kill and eliminate bacteria, molds, and viruses.
The filters, which capture pet dander, dust, and other large particles, should be changed at least every 6 months to prevent organisms like mold and bacteria from thriving.
Can it run all the time?
Yes, with a whisper-quiet sleep mode and a continuously running timer function, you can run it round the clock, especially if you have ongoing allergies or pets in your home.
How do I switch off the AZEUS nightlight?
Please hold down the control button for about 3 seconds.
Who is best suited for AZEUS Air Purifier?
Budget Conscious Individuals: the AZEUS air purifier comes at an affordable price. Considering that it is feature-rich and has a top-notch filtration system, at its price, this unit is a great bargain. It would be perfect for pet owners, students, those on a tight budget. You can even buy 2 or 3 units to place in different rooms without digging deep into your pocket.
Medium-large rooms and bedrooms: it can circulate room air over 5 times in an hour, ensuring efficiency in air purification; the recommended room size is 540 square feet or a medium-large living room, making it excellent for large bedrooms.
As the noise level in sleep mode is less than 25 dB, this unit can run quietly in your bedroom without waking you up. The night light can be switched off to ensure a perfect sleep.
Asthma and allergy relief: The true-HEPA as well as its efficiency in cleaning air makes the AZEUS Air Purifier a great choice for allergy sufferers and asthmatics.
The true-HEPA filter eliminates common allergens such as dust, mold, dander, and pollen, while the ozone-free design keeps your lungs safe. This makes it ideal for anyone wanting to improve their air quality like pet owners, the elderly, students, and people with babies.
Bottom Line
If you are looking for a high-powered device, the AZEUS Air Purifier is a great option you need to consider. In addition to reducing smoke, germs, and pollen thanks to its multi-stage filtration system, this unit also eliminates mold spores from the air.
What's more, the pre-filters help to extend the lifespan of your HEPA filter as it keeps out large-sized pollutants such as pet hair. The activated charcoal filter also removes odor, thereby eliminating odor. The UV-C light kills bacteria and airborne viruses, thereby keeping your respiratory system safe and healthy.
Through these three layers of filters, you are guaranteed to have clean and fresh air circulating in your home.
And despite it being a powerful unit, it runs quietly and doesn't consume a lot of energy. In terms of filters efficiency, you are needed to replace the filters every six months, but this depends on pollution in your area.
Overall, this is a great option for the price!
AZEUS True HEPA Air Purifier for Home
up to 1080 sq ft Large Room, UV light | Ionic Generator | Office or Commercial Space | Filter 99.97% Pollen, Smoke, Dust, Pet Dander | Auto Mode | Air Quality Sensor | Night Light
7-in-1 Purification Systems:TRUE HEPA FILTER(Pre-filter, True HEPA filter, Activated Carbon & VOC Absorber, Formaldehyde adsorption particles, Anti-bacterial Treatment), a UV-C Light Sanitizer and a Negative Ion Generator.